Are you curious about the 2019 Jeep Wrangler 4x4 systems and what their differences are? Then this is the 4x4 systems guide for you! This breakdown covers the Wrangler Selec-Trac® 4x4 System, Command-Trac® 4x4 System, and Rock-Trac® 4x4 System.
If you're eager to experience the impeccable performance of a 2019 Jeep Wrangler for yourself, the inventory and finance and lease offers available through Greenbrier Motor Company in Lewisburg, WV, have the SUVs and savings you're looking for. For further information about the Jeep Wrangler and available 4x4 systems, please call a product specialist at (877) 689-5925.
Selec-Trac® 4x4 System
The Selec-Tran® 4x4 system allows your Wrangler to automatically switch from 2WD to 4WD when the environment requires it. This system sends power to the wheels with the best traction to overcome snow, mud, rocks, sand, and other challenging driving situations. The Smart Lock feature embedded into this system allows for constant 4WD mode when needed. The Selec-Trac® is available on the Jeep Wrangler Sahara and Sahara Altitude and is standard on the MOAB™ trim.
Command-Trac® 4x4 System
If what you need is an SUV 4x4 system ready for a great journey, the Command-Trac® is for you. This mechanism allows bold 4WD maneuverability with a 2.72:1 low range. With the Wrangler Command-Trac®, you can tow to your heart's content or roll over rocks in your path. This 4x4 system is standard on the Jeep Wrangler Sport, Sport S, Sport Altitude, Sahara, and Sahara Altitude trim levels.
Rock-Trac® 4x4 System
Standard on only the 2019 Jeep Wrangler Rubicon trim, the Rock-Trac® 4x4 system is built for the off-road aficionados of the world. This 4x4 system utilizes more torque and allows for greater command of the elements, leading to the thrills of a lifetime. The Rock-Trac® system consists of a NV241 off-road transfer case with a 4:1 low gear ratio, Tru-Lok® electronic locking front and rear differentials, and an electronic front sway bar disconnect. The off-road transfer case delivers the control and torque you need; the front and rear differentials allow for even power spread among all of the wheels for improved traction; and the front sway bar can be removed so that your front wheels can flatten and drop, creating better suspension.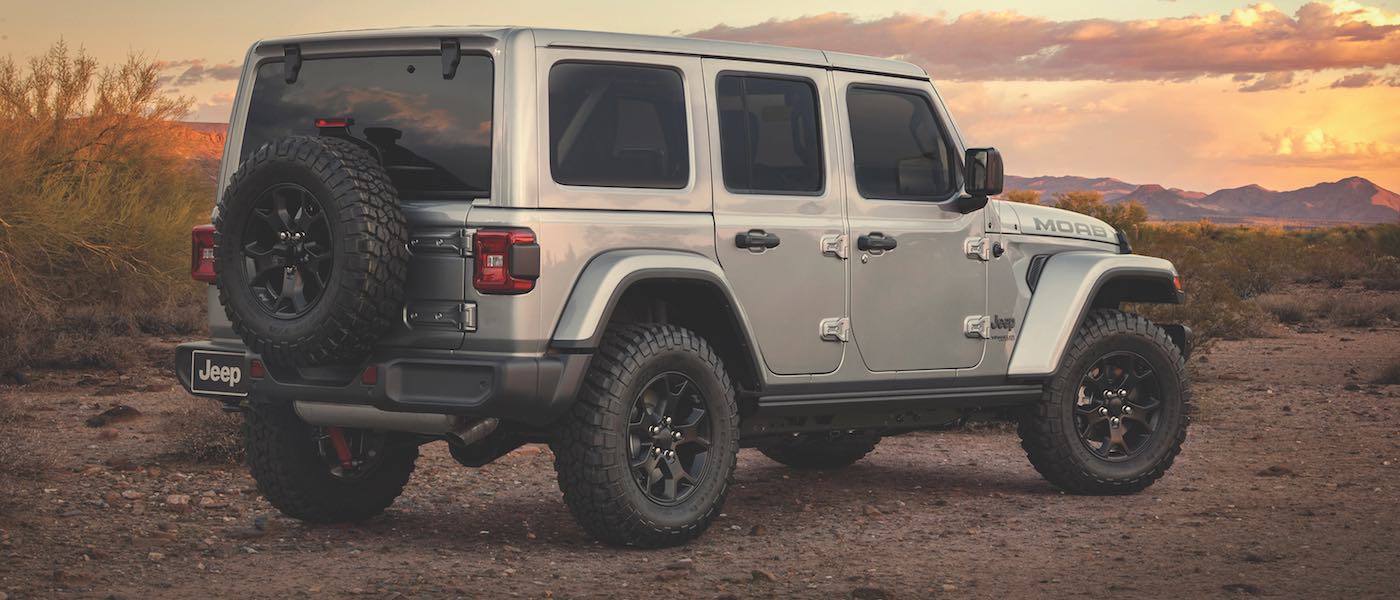 2019 Jeep Wranglers for Sale at Greenbrier Motor Company
Want to take the 2019 Jeep Wrangler for a spin? Pick out your favorite model from the inventory on our lot in Lewisburg, WV, then match it with our Jeep Wrangler specials. If you'd like to discuss the Jeep Wrangler capabilities with a Greenbrier Motor Company team member, call us at (877) 689-5925.