Beckley, WV, is a town of over 16,900 people. It serves as the county seat of Raleigh and is named after the very first Librarian of Congress, John James Beckley. While locals love to visit landmarks like Grandview State Park or enjoy the Appalachian history, arts, and culture of the region at the Tamarack, they also enjoy great local eateries like Pasquale's, the Char, and others.
The town also has a hopping nightlife, and locals enjoy spending time with friends at Foster's Tavern, the Stress Zone R&R Hiphop Night Club, Kem's, and Melody's. They might catch a live show at the Raleigh Playhouse & Theatre or a meal and beer at Sir Walter's Tavern. All of these places require a reliable vehicle to get there. For that, residents know they can turn to the most trusted Ram dealer near Beckley, WV, when they enter our showroom.
Ram Dealer near Beckley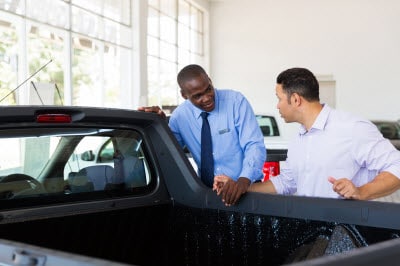 For many years, we've been the most trusted Ram dealer in the Beckley area. That's because the fuel that sustains us is nothing short of complete customer satisfaction. We're not just here to sell you a truck; we want to sell you the Ram truck you've dreamed of driving, and the one that you'll be driving for many years to come.
Our selection of Ram vehicles is unparalleled in the region, so when it's time to find the perfect hard-working, high-performing pickup, you can't go wrong browsing our inventory, either from the comfort of your living room online or by stopping in to the shop to take a look in person. Test drive all the trucks you want, whether it's the Ram 1500, 2500, or 3500, and find the one that perfectly matches your needs for work and play. We are the proud holders of the FCA Customer First Award for Excellence, having been rated the best for overall sales and service, and we have our customers to thank for that.
Greenbrier Motor Company
If you're looking for the very best in Ram truck selection, customer service and satisfaction, look no further than our dealership. We've served the Beckley region for years, and we plan to serve for many more. Our customer service staff and finance team will help you every step of the way to find the best incentives, deals, interest rates, and payment plans. You can even get a head start by filling out the preliminary application right from home!
Even after you get into your new truck, we'll still be by your side, offering continued service every year you own it. Bring it back to stay on top of scheduled maintenance. Call us for warranty fixes or recalls. We'll even take care of you if you have an accident or need major repairs, using genuine factory parts installed by certified Ram technicians. If you're looking for the very best Ram dealer near Beckley, WV, look no further than Greenbrier Motor Company. Stop in to our showroom for more information or to test drive your next Ram pickup truck today!