Are you looking to venture off the beaten path in the Lewisburg, Alleghany, and Ronceverte areas? If so, there's only one brand you can trust to get you through even the toughest off-road challenges. Jeep has earned its stunning reputation over decades of strong performance, and the latest models only show how far they've come.
You won't spend all your time off-road, however, so it's important you get a model to fulfill all your driving needs. That's where the 2018 Jeep Grand Cherokee and the 2018 Jeep Cherokee can help. The Grand Cherokee is certainly bigger, but that's just one of the many differences. Learn which one is better suited for you in our Jeep Cherokee vs. Jeep Grand Cherokee comparison.
Interior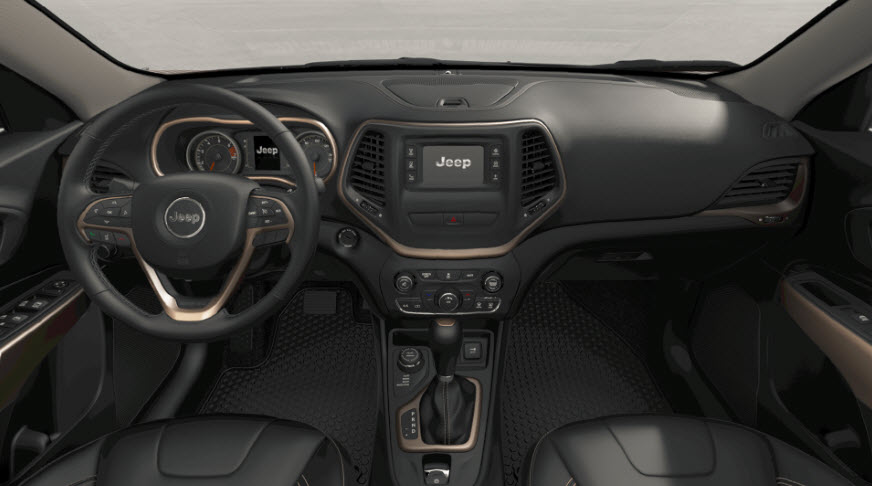 The first major difference you'll notice is the size. The Grand Cherokee is considerably larger, and that's reflected in the interior space. You'll have significantly more room for cargo in the Grand Cherokee thanks to its 68.3 cubic feet of available space, but the Cherokee is no pushover still featuring 54.9 cubic feet of space.
Passengers, however, might have a better time in the Cherokee. While the Grand Cherokee has a few tenths of an inch advantage in terms of headroom, the Cherokee triumphs with legroom offering 41.1 inches in the front and 40.3 inches in the back. The Grand Cherokee, on the other hand, offers 40.3 inches in the front and 38.6 inches in the back.
Performance
Under the hood, the differences are a bit more cut and dry. The standard Grand Cherokee is equipped with a powerful 3.6L V6 engine capable of producing up to 295 horsepower. With the standard Cherokee 2.4L 4-cylinder engine, you only get 180 horsepower. You can always upgrade the Cherokee to a 3.2L V6 to push your horsepower all the way to 271, but that still falls short.
If you have a taste for raw power, the best option is the Grand Cherokee by far. While the standard engine already produces more power than the Cherokee's top engine, it doesn't stop there. Upgrade to the 6.4L V8 engine, and you can enjoy an impressive 475 horsepower. For power that surpasses all other vehicles in its class, however, make sure you get the supercharged 6.2L HEMI® V8 engine. That beast boasts 707 horsepower.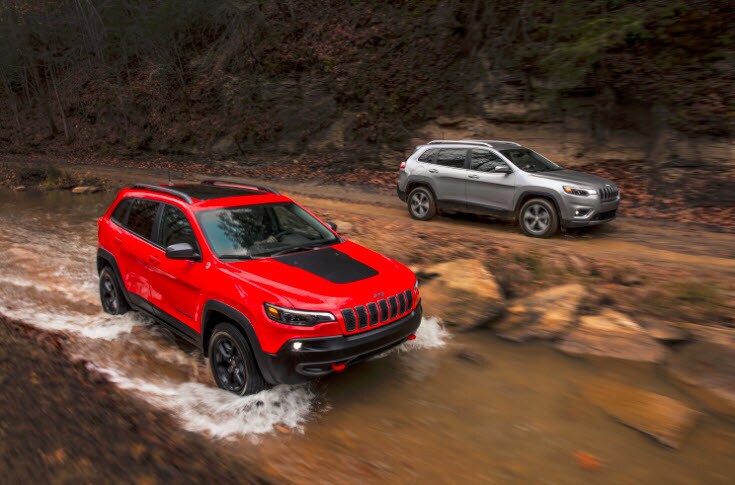 Off-Roading
When it comes to off-roading, both vehicles are incredible. Each feature a trim level specifically designed for venturing off the beaten path even going so far as to earning the coveted Trail Rated Tough badge. To earn that badge, a vehicle has to pass a multitude of rigorous off-road tests that measure articulation, water fording, traction, maneuverability, and more. You might find the Cherokee a bit more maneuverable.
Jeep Cherokee vs Jeep Grand Cherokee
If there's anything our Jeep Cherokee vs. Jeep Grand Cherokee comparison showed, it's that both of these vehicles are incredible. Drivers near Lewisburg, Alleghany,or Ronceverte who want power and storage space may prefer the Grand Cherokee while the Cherokee reigns supreme in drivability and comfort. Either way, you won't know until you give them a try, so head down to Greenbrier Motors and our knowledgeable team will let you take each for a spin. Stop by our dealership or contact us to get your test drive scheduled today!