If you're in need of a vehicle that can take you everywhere from your daily commute to your most rugged adventure, you'll want to consider the classic Jeep Cherokee. This SUV has been a favorite in the Jeep lineup for years, and the 2018 model year offers just as much capability as you'd expect from the brand. To help you decide if it could be the right fit for your own drives around Lewisburg, Alleghany, and Ronceverte, our team at Greenbrier Motors has put together this Buyer's Guide to the 2018 Jeep Cherokee. The best part is that we're offering it to our customers for free!
What You'll Learn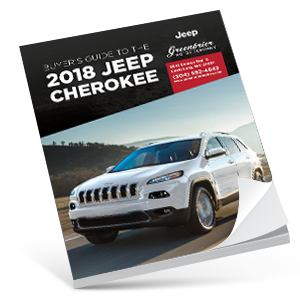 Inside this eBook, you'll find all of the information that you need to determine if the 2018 Jeep Cherokee is the right SUV for your unique lifestyle needs. You'll learn all about:
The Cherokee's 4x4 systems and capabilities
Interior dimensions, color choices, and features
Passive and active safety features in the SUV
And more!
Get Your Guide
Once you've read through this free eBook, you'll be armed to make an informed purchase decision. The next step in the process is to stop by the dealership and test drive the Cherokee for yourself. Contact Greenbrier Motors today to schedule a time for your test drive, and we'll get you out on the streets of Lewisburg, Alleghany, and Ronceverte.
Get started by filling out the quick form on this page, and you'll get immediate access to our FREE eBook Buyer's Guide to the 2018 Jeep Cherokee.