Many parts of your vehicle are important for safety and performance, but none so much as the brake system. Brakes need to work properly to bring your vehicle to a stop, so a malfunction within any of these components should be addressed as soon as possible.
If you suspect a problem with your brakes, you'll want an experienced team of service technicians to care for your vehicle, such as those at Greenbrier Motors. Find out about our brake repair near Lewisburg, Alleghany, and Ronceverte.
Your Brake System
When you press down on your brake pedal, your vehicle slows or stops. Sounds simple right? There's actually a lot more that goes into this process than meets the eye, however.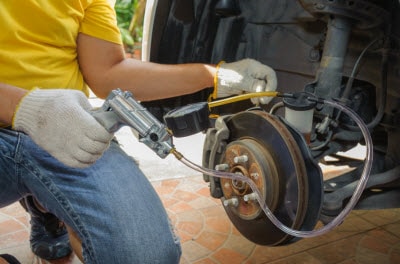 When you apply pressure to a brake pedal, your brake pad clamps down onto the brake rotor and uses friction to bring the vehicle to lower speeds. In vehicles with rear drum brakes, the brake shoe presses against the wheel to slow the car down. These are different mechanisms, but the physical process is the same.
Brakes undergo a lot of stress to slow your vehicle down. At temperatures nearing 1000 degrees, brakes need to withstand the excessive heat and counteract the forward momentum of your vehicle, which is why it's so important that they're in optimal condition.
Any problem, large or small, can affect your brakes' ability to slow your vehicle properly. Here are some signs that you may need brake repair:
Your brake pedal feels spongy.
Your brake pedal goes all the way to the floor.
The vehicle pulls to one side or the other when you press the brakes.
You hear squealing, squeaking, or grinding from your brakes.
Brake Repair near Me
If you need brake repair near Lewisburg, Alleghany, or Ronceverte, look no further than Greenbrier Motors. Our skilled service technicians have plenty of experience with brake repairs, replacements, and servicing, so we can quickly and easily identify the problem and get you back on the road in no time.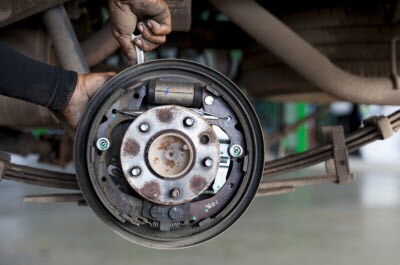 Replacing brake pads is the most common brake repair service, due to the amount of stress and wear they experience while performing the job. They often require earlier replacement than other brake components, and this service is simple and routine.
Some people prefer to change their brake pads on their own, but this is no easy task without professional equipment, not to mention it can be hazardous for a beginner. Our technicians have the necessary tools and technology to safely and quickly perform a variety of brake repairs, so you won't have to worry about your stopping power. Technicians can also identify future problems during the service, giving you the time to correct the issue before it becomes a major repair.
Schedule Your Brake Repair Appointment
If you need brake repair near Lewisburg, Alleghany, or Ronceverte, call or stop by the service center to speak with a technician about your vehicle's needs. We'll be happy to perform your brake repair, along with any other vehicle services you need, so don't hesitate to come to us to schedule your service appointment today!